Sewage Treatment Solution For Class A Biosolids
Featured Product from Wyssmont Company, Inc.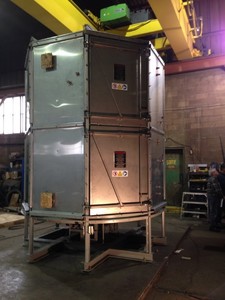 Municipal Sewage Treatment Solution For Class A Biosolids
Wyssmont delivered the largest, shop assembled TURBO-DRYER to a Municipal Sewage treatment plant to dry sludge and produce Class A biosolids. The 15% solids, (85% moisture) in the feed are handled and dried in the TURBO-DRYER without backfeed. Most dryer types require dry solids backfeed to handle the wet feed.

Watch>>>The TurboDryer in action.
The Wyssmont TURBO-DRYER® thermal processor has proven to be the best dryerreactor to successfully torrefy wood chips. Torrefaction of biomass is one of the most promising bioenergy technologies because it transforms a bulky biomass into a high quality product that can be readily co-fired with coal, without the need to change anything within an existing coal fired power plant.
Why the Wyssmont TURBO-Dryer is the best
Wyssmont Company designs, manufactures and services its high quality, reliable TURBO-DRYER® worldwide to the chemical, specialty chemical, pharmaceutical, mineral, food and food additive industries. Wyssmont manufactures TURBO-DRYER®, continuous tray dryers, crossflows, feeders, lumpbreakers, solvent recovery dryers, multistages, laboratories and calciners.
Wyssmont's Test lab requires only a few pounds of wet material per test and the results provide direct scale up to any production capacity. TURBO-DRYER® are available for Rent to confirm test results and provide larger quantities of dried product for evaluation or test markets.