TURBO-DRYER®
Featured Product from Wyssmont Company, Inc.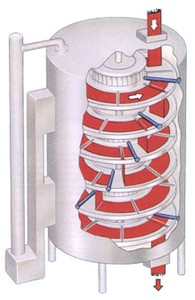 Wyssmont Company designs and supplies the reliable TURBO-DRYER® worldwide to dry solvent wet materials to the chemical, metal powder and food flavorings industries.
The TURBO-DRYER® consists of a stack of slowly rotating circular trays. Material is fed onto the top tray. After one revolution the material is wiped onto the next lower tray where it is mixed, leveled, and then after one revolution, is wiped to the next tray where the operation is repeated. The trays are contained in an enclosure in which heated air or gas is circulated by internal fans.
Even, thorough, and rapid drying
Uniform inside temperature or zoned temperature regions. The closest product temperature control of any dryer possible. Can give the lowest residual moisture of any dryer. Request more info.
About Wyssmont:
Wyssmont Company designs, manufactures and services its high quality, reliable TURBO-DRYER® worldwide to the chemical, specialty chemical, pharmaceutical, mineral, food and food additive industries.
Founded in 1932, Wyssmont Company has solved many difficult drying problems and offered many benefits to the end user.
Wyssmont's Test lab requires only a few pounds of wet material per test and the results provide direct scale up to any production capacity.
TURBO-DRYER® is available for rent to confirm test results and provide larger quantities of dried product for evaluation or test markets. Systems are designed for drying, drying and cooling, sublimation and gas-solids reactions. Heat treating and calcining can be accomplished at temperatures up to 650°C.