TURBO-DRYER® Operating Temps up to 650°C.
Featured Product from Wyssmont Company, Inc.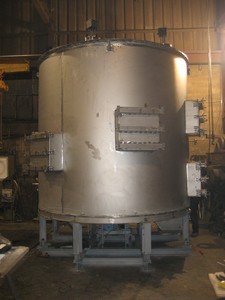 TURBO-DRYER® Operating Temperatures up to 650°C.
A recent increase in capacity required an additional TURBO-DRYER®to heat-treat a long life battery metal powder.
This design is capable of operating at temperatures up to 650°C.
The unit includes an internal electrical heating system to provide the heat to remove the residual moisture. With this system there is virtually no dust exhausting from the operation. A small purge of dry air or nitrogen is used to purge water vapor from the system.
The TURBO-DRYER®design consists of a stack of rotating circular trays in a sealed enclosure. Material is fed onto the top tray, and after each revolution is wiped onto the next lower tray. The internal TURBO-Fans recirculate heated gas in the enclosure over the internal electrical heaters to provide the drying medium. Very low horsepower requirements is a major design benefit of this equipment.
Wyssmont Company designs, manufactures and services its high quality, reliable TURBO-DRYER® worldwide to the chemical, specialty chemical, pharmaceutical, mineral, food and food additive industries. Wyssmont manufactures TURBO-DRYER®, continuous tray dryers, crossflows, feeders, lumpbreakers, solvent recovery dryers, multistages, laboratories and calciners.
Wyssmont's Test lab requires only a few pounds of wet material per test and the results provide direct scale up to any production capacity. TURBO-DRYER® are available for Rent to confirm test results and provide larger quantities of dried product for evaluation or test markets.