Where Robust, Rugged Construction Is Required
Product Announcement from XCEL Power Systems, Ltd.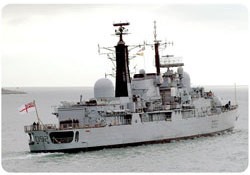 XCEL Power Systems have provided many custom and semi-custom designs for seaborne applications, where robust, rugged construction is required to offer high reliability and protection from some of the most demanding environmental conditions, including salt fog, ice and total immersion. XCEL products are fitted to surface ships and submarine equipment. The long in-service period for equipment in these applications requires the equipment to be easily maintained.
Typical Applications:
Weapons IFF Systems
Thermal Imaging Equipment
Integrated Radar & Communications
Periscope Electronics
Product Code Brief Product Description:
EP1353 Seaborne Frigate PSU - Designed to meet EN60950, Power factor 0.95, Outputs over-voltage protected
EP1350 Under-Sea PSU - Input Voltage 400V DC, BITE, 2.5Kv Input to output Isolation
EP1294 Tactical Radar & Communication System PSU - 115V AC Input, Six Output High Power variants, configured in standard case
EP1277 Thermal Imaging System PSU - 28V DC Input, Multiple LV Lower Power Outputs, Lightweight Construction
EP1258 Weapons IFF Deflection Systems PSU - 28V DC Input, Multiple LV outputs, Designed to fit existing Customer Enclosures
EP1245 Periscope Electronics PSU - 28V/40V DC Input, Multiple LV & HV Outputs, Control BITE & Sequencing
EP1242 Tactical Radar & Communication System PSU - 115V AC Input, Customised QUAD Output, Configured in standard case
SP3344 Seaborne PSU - 115 VAC 3-Phase 400Hz Input, Multiple Outputs, Fitted with Thermal trip
SP3267 Multiple Input / Outputs Display PSU - 18 ~ 26V DC Inputs, 105 ~ 124V AC Inputs
SP3173 Naval ESM Power Supply - 115 V ~ 230 V 3-Phase / 280V DC - 420V DC Input, Weight <3Kg
SP3152 Electronic Support Measures (ESM) PSU - 115/230V AC or 280/420V DC Inputs, Single High Power Output
SP3151 Naval Radar Systems Power Supply - EMC Protected, High current capability, 230V 3-Phase 50Hz
Since 1956, XCEL Power Systems has been at the forefront in design and manufacture of Low Voltage and High Voltage Switch Mode Custom Power Supplies Our products are used in harsh environment applications across a wide range of equipment - our key customers operate in the Defence, Aerospace, Medical, Transport and Telecommunications markets
Our Commitment To Our Customers
To be customer focused
To strive for continuous improvement
To offer innovative design solutions
To deliver high quality, cost effective products and service
To provide comprehensive, long term customer support
XCEL Power Systems Limited has over 53 years of experience in the Design and Manufacture of Switch-Mode PSU's for Avionic Equipment. We offer a full design and validation service to the most stringent requirements of internationally accepted standards for Military Avionics equipment - including input filtering to Mil Std 704 and EMC compliance to Mil Std 461.
XCEL provide a specialist expertise in the area of High Voltage design - catering for the needs of Pilot Head Up / Helmet Display Systems and Defensive Aids equipment - but are equally at home designing Low Voltage systems for General Avionics equipment such as Multi-Function Displays, Lighting Systems and Communications / Mission Computers. Our innovative designs are already proven on aircraft in the Boeing range, and feature on Gulfstream, F16,Tornado, Harrier, B2, Hawk, and Eurofighter Typhoon.
Click on Enquiry Form to request further information
Click on the links below to view a range of XCEL products for these applications.
XCEL Power Systems are able to design Switch Mode Power Suppliesto the highest reliability and safety specifications. Our experience in providing high levels of isolation, encapsulation techniques, and thermal management within power supply designs are key to meeting the specialist requirements of the medical markets, from low power patient-connected equipment to high power / low noise requirements for X-Ray and Magnetic Resonance Scanners.
Click Enquiry Form to request further information
Vital Organ Transplant Battery Charger - 100 V AC ~ 240 V AC 50~60 Hz Input. 13 V DC Single Output High Reliability (MTBF > 200,000HRS).
XCEL Power Systems have designed a wide range of Military PSUs for Land Based & Seaborne Applications. The Switch-Mode Power Supplies in this Section of the site represent just a small cross section, with Multiple Input / Output combinations, high reliability targets and designed to meet the most demanding environmental conditions.
Applications
Thermal Imaging Equipment
Radar Power Systems
Portable Mission Computers
Communications Systems
Click on the links below to view details of our products
Click on Enquiry Form to request further information
XCEL Power Systems maintains a library of existing power converter designs, which can be adapted to meet specific requirements. However, the defence and aerospace industry has a growing need for "standard" electrical designs, which also meet the stringent environmental and EMC criteria of the final application.
Military Spec at Commercial pricing
Designed for distributed power architecture
Industrial or Military Temperature Range
Modular design
For more information click 48V
Commercial / Military variants
Rugged Construction
Configurable Outputs
Semi-custom design options available
Military Spec at Commercial pricing
Designed for distributed power architecture
Industrial or Military Temperature Range
Modular design
For more information click 48V
Click on Enquiry Form to request further information
XCEL Power Systems has over twenty years experience in the design, development and manufacture of high-quality, high-reliability power supplies for harsh environments. The Rail Transport & Traction Equipment industry, is an area where the Company has been able to leverage it's expertise into non-defence related products. XCEL products are in use on major transportation projects, including the New Jersey Transit, Chicago Transit and the Mexico Trolley Bus.
Applications
Flat Battery Start Panels
Inverter equipment
Auxiliary Voltage Supplies
Other designs for the transport environment have been developed for general power applications. Compliance to the Electro-Magnetic Capability Specifications for the rail industry is maintained, and care taken to ensure that products are protected for vibration, shock and extended environmental temperature range
Click on Enquiry Form to request further information
Typical Features
Input of 85 V AC to 270 V AC @ 45 ~ 65 Hz
80% Efficiency at Full Load
Over-Voltage & Current Protection
Power Factor Correction
Rack Mountable
Applications
Roadside Cabinets : Fibre Optic & Cable, Local Distribution Network
Click on Enquiry Form to request further information
The Company manufactures high reliability wound components, many destined for XCEL Power Systems' Switch Mode PSU designs for military and aerospace applications. In addition, the Company is proud to support a healthy external customer base, specialising in low to medium volume runs of complex windings, for high frequency switching, and more conventional requirements, for transformers, high tolerance inductors and three phase assemblies.
The Company's production capabilities include:
Conventional Winding Machines
Programmable Tanaka Winding Equipment
Toroidal Winding (including "pull" winding)
Copper Wire, Copper Strip & Foil Winding
Ferrite, C Core and E Core Assembly
High Voltage Transformers
Wet Winding
Cable Forming & Looms
The QUAD series of Power Supplies are configurable "standard" products for severe environmental applications, providing up to 4 isolated user-specified outputs to a maximum power of 180 Watts(160 watts for AC variants). AC and DC input voltage versions are available. Input converters include filtering to reduce EMI and to suppress input transients. Each of the 4 outputs is configured and manufactured to customer requirements.
XCEL Power Systems have over 20 years of design experience in Power Conversion equipment for some of the most demanding environments in the aerospace, military and industrial market sectors. Our engineering department provides a seamless "end-to-end" solution - from conceptual design to production readiness. This demands the very best in cross-functional engineering expertise and total project management, ensuring that the final design is brought in on cost and on time.
Our capabilities include:
Electronics Design
Proven existing "portable" design topologies for avionics / military applications
Custom design solutions to meet specific input / output needs
High Voltage / High Isolation design expertise
Filtering and EMC compliant solutions to highest Mil Spec requirements
CAD based, state of the art integrated schematic capture - pcb layout design tools
Mechanical & Thermal Design
Dedicated, experienced resource for mechanical & thermal design
3D modelling using the latest software
In-house model shop for first off hardware
Validation capability for vibration, temperature cycling & thermal shock
Stress and Failure Mode Analysis (to MIL Std)
Project and Programme Management
All engineering programmes are monitored and controlled, with timeline reporting using Microsoft Project. Close co-operation between our engineering department and the customer's project team ensures that projects are brought in on time, on cost and to specification.
Documentation control is maintained in accordance with XCEL's ISO 9001:2008 Accredited Quality, ISO 9100:2003 Design & Manufacture, and ISO 14001:2004 Accredited Environmental Systems , with additional support where required to meet the specific needs of the project.
XCEL Power Systems Ltd manufactures its products in a custom-built 28,000 sq. ft facility, which houses engineering, manufacturing, and all support activities. The business is managed using a full MRP2/ERP system. In-house facilities are available for all our electrical, mechanical and test requirements.Our manufacturing facilities include a 10,000sq ft anti static, temperature controlled electronic assembly area.
Manufacturing
Manufacturing is split into functional cells, including 5 electronic assembly teams; skilled manual electronic assembly, laser placement through hole assembly machines, and a high speed surface mount facility. Dedicated teams also provide expertise in HV transformer winding, specialist HV electronic assembly, conformal coating, and encapsulation. Assembly and soldering standards are monitored within our QA System and in accordance with IPC 610.
Test
Rigorous production testing is carried out at both pcb / sub-assembly level, and at the completed product stage, before and after burn-in where required. For avionics display products, we have provided a dedicated HV Test Area. Dependent upon the product specification and volume, testing can be carried out either manually or using more sophisticated ATE tools, programmed in house. Our environmental screening capabilities include temperature cycling, thermal shock, random and sinusoidal vibration testing, and high altitude simulation.
Mechanical Engineering
Our 5,000 sq. ft machine shop is equipped with 2 Kitamura CNC's with Automatic Tool changers, 1 Interact CNC machine, Bridgeport Milling machines and lathes, and offers integrated CAD/CAM support. A full suite of Measuring / Comparison Equipment is also maintained with on Calibration / Monitoring Procedures.
The company is certified to Design & Manufacture ISO9100:2003, ISO9001:2008 & Environmental ISO14001:2004 Accredited Systems and registered as an approved Contractor under MOD Qualification Systems
Output voltages from 3 to 120 volts DC can be specified to a maximum of either 48 watts or 5 amps per output. Outputs are isolated and can be connected externally in series or parallel to provide +/- outputs.The units are packaged in a machined aluminium casing with a chromate coating or painted finish - the enclosure optimises thermal conduction and allows for easy mounting, via the base or side mounted "wedgelock" fittings for rack application.
XCEL Power Systems offer a comprehensive, full traceability, Build To Print service to customers requiring more than the average sub-contract manufacture of boards, sub-assemblies or complete equipment
As one of the world's leading manufacturers of high-reliability power supplies and custom designed power systems, XCEL Power Systems is supported by a global network of world-class suppliers and partners. We have a reputation for product performance and quality - our suppliers have to provide the very highest standards of product and service to ensure that the supply chain is able to meet the exacting requirements of our chosen markets.
Our policy is to work with companies which are "best-in-class" and deliver world class products and services.
For more details of our procurement policy, products purchased, and supplier criteria, click on the links below.
XCEL Power Systems cannot realise it's business objectives without the full support of the supply chain. We put great emphasis on focussing the attention of our suppliers on performance & quality, and we consider co-operation & partnership with our suppliers to be of the utmost importance. XCEL Power Systems is a loyal, but also a critical partner in business.
We continuously seek out new suppliers and new opportunities to expand our business. Our procurement team works closely with engineering to select the best products and technologies available. Within these pages we have tried to provide information about our procurement organisation and the products and services we require. We believe that a better understanding will help to establish reliable relationships that benefit both partners.
XCEL Power Systems is interested in long-term partnerships. These relationships are often characterised by a dependency that is beneficial to both parties. Therefore, it is very important to focus on the commitments made, in order to have a clear understanding of objectives, targets and results. We wish to prevent misunderstanding during the initial development phase of any relationship.
We are always searching for high-specification, high-quality parts and new technology. These elements enable us to produce attractive and reliable solutions for our customers, often in small quantities. At the same time, there is an industry-wide drive towards commercial-off-the-shelf (COTS) products. Wherever possible, we will try to make use of such products.
Our procurement organisation purchases a whole range of products and services from many suppliers: from high-tech special equipment to nuts and bolts. Therefore the organisation is divided into a number of product groups. The list on this page is meant to give you an impression of the variety of products we purchase. If you think your company can deliver any of these goods and you meet our Criteria for Suppliers , you are invited to enter our Application procedure.
The three product groups are:
Technology & Marketing Partnerships
Value Added Resale of Third Party Products
Technology Joint Ventures
Consortiums
Licence Manufacturing
Sales & Marketing Joint Ventures
Geographical Distribution Agreements
Components & Materials
Active Components
Passive Components
Power conversion products & wound components
Connectors, cables & wires
Castings & metal work, mechanical parts
Printed Circuit Boards
Multi-layer materials
Chemicals & manufacturing consumables
Capital Equipment & Services
Test & measurement equipment
Testing by third parties
Tools and machinery
Maintenance
IT Systems Infrastructure (Hardware)
Software Tools for CAD/CAM, DTP, CRM etc.
Temporary personnel
Catering
Travel
Click here to Contact Procurement
Mission Statement
"XCEL Power Systems Ltd mission is to meet and exceed the customer's expectation by creating a culture in which employees are genuinely empowered and focused on the customer. To welcome the challenge of demanding customers, driving innovation and competitiveness, and by meeting these demands ensure our products remain World Class."
---