EX-6600 LN/PD Laboratory Instrument
Product Announcement from Xenemetrix Ltd.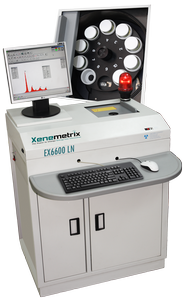 EX-6600 Secondary Target - offers the ultimate in sensitivity and selectivity. This fast, accurate, easy-to-use instrument has robust hardware and powerful analytical software to achieve low detection limits. The Multi-Channel Acquisition resolution provides superior peak-to-background ratio for improved detector response.
The highly-versatile EX-6600 has eight different primary beam filters including collimator for optimal direct excitation of any element. Our patented Wide Angle Geometry optical system gives the advantage of both direct and polarized excitation. Eight secondary targets provide maximum sensitivity for fast and precise quantification even in difficult matrices such as alloy, plastic and geological samples. Targets are fully customizable to achieve sub-ppm detection limits.
EX-6600 requires minimal or no sample preparation and can be used for analyzing liquids, solids, slurries, powders, pastes, pellets and air filters of different shapes and sizes.
Key Applications:
Mining & Minerals
Metallurgical
Environmental
Petrochemical
Radioactive Materials Research
---