Ceramic Bulletproof Tiles For Body Armor
Featured Product from Xiamen Innovacera Advanced Materials Co., Ltd.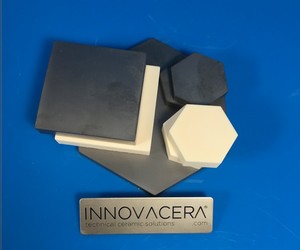 Ceramic has been used for centuries for its strength,elastic and durability.Today,it's also used in the creation of armor.Ceramic offers significant advantages over metal armor plates in that they are far lighter,but do not sacrifice stopping power,durability or strength.This allows police officers,security personnel and military personnel or vehicle to enjoy the best possible protection without adding extra weight that would impede their otherwise.
INNOVACERA produces Alumina ceramic,sintered Silicon Carbide and Boron Carbide,our high quality ceramics always with perfect ballistic performance.
INNOVACERA'S ballistic plates meet protect level of NIJ III& IV,and Gost Standard 50744-95,or other specified protect level.
INNOVACERA also offer high quality of Ballistic Vest,Ballistic Helmet,Ballistic Visors,and Anti-Riot Helmet,with competitive prices