Machinable Glass Ceramic Industrial Applications
Featured Product from Xiamen Innovacera Advanced Materials Co., Ltd.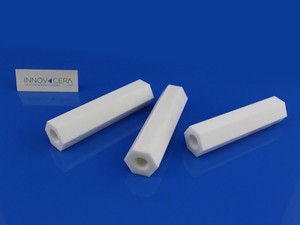 Machinable Glass Ceramic is a mica glass-ceramic material with a unique combination of properties. It is easily machinable using conventional metalworking tools, with no post-firing required. A versatile ceramic material with technical strength and insulation properties exceeding high-performance plastics, it is also stable in high temperatures (continuous at 800° Celsius, up to a peak of 1,000° Celsius) with 0.0069% porosity. The ceramic material also acts as an electrical insulator that is radiation resistant and has low thermal conductivity. Machining tolerances are surprisingly tight,upto0.012(0.0005").it can be machined to a surface finish of less than 0.5 (20uin).
Material Properties:
High Dielectric Strength, Excellent Insulation
Good Machinability, Machinable With Ordinary Metal Tools And Fast Turnaround
High Precision, Hold High Tolerance
Excellent Acid And Alkali Resistance
No Outgassing And 0.069% Porosity
Withstand High Temperature Up To 800?