Metallized Ceramic Components
Featured Product from Xiamen Innovacera Advanced Materials Co., Ltd.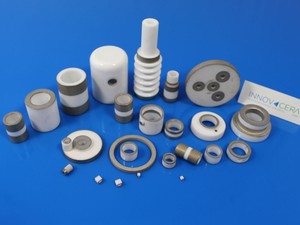 Innovacera supplies precision metallized ceramic components in aluminum oxide ceramics for the military, medical, and aerospace industries. Through spray, needle, and brush coatings or screen printing our capabilities allow us to metallized on flat, cylindrical, and complex ceramic bodies. Moly-Manganese is the typical base coat materials used for metallization.
Applications:
Ceramic Feed-through insulators,
Ceramic Headers,
Ceramic High-power receptacles,
Ceramic Insulating discs,
Ceramic Insulator rings and cylinders,
Ceramic Precipitator products,
Ceramic Power switches,
Ceramic Traveling wave tubes,
Ceramic Vacuum interrupters,
Ceramic components for Windows,
Ceramic Power grid tubes,
X-ray Ceramic tubes
Joining types:
Ceramic + Mo/Mn Metallized + plating Ni
Ceramic + Mo/Mn Metallized + plating Ag
Ceramic + Mo/Mn Metallized + plating Au
Ceramic + printing Ag
Special types are available according to customer's drawings or samples.