96% Al2O3 Alumina Ceramic Substrates
Featured Product from Xiamen Unipretec Ceramic Technology Co., Ltd.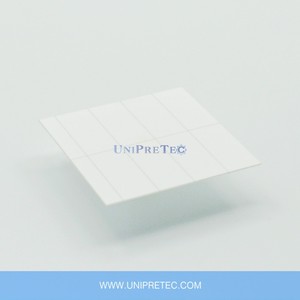 Ceramic Substrates made of Al2O3 Alumina is much cheaper than AlN Aluminum Nitride Substrates. Alumina Substrates / Sheets / Plates are made by tape casting and dry pressing. Tape casting is suitable for producing thin Ceramic Substrates, dry pressing is suitable for producing thick Ceramic Substrates. General purity degrees of Al2O3 Substrates / Sheets / Plates are 96%, 99% and 99.5%. Standard thickness of Al2O3 Substrates / Sheets / Plates ranges from 0.2mm to 2.0mm, however, customized sizes are available. UNIPRETEC is also capable to do laser scribing, surface grinding, polishing and other machining work.
Typical applications: LED packages, Power modules, Substrate for chip resistors, HIC substrates for heat dissipation, FAX substrates for thermal printer head, Substrates for automotive parts, Substrates for general thick film application, Substrates for sensor parts, Substrates for electronic devices...