Al2O3 Aluminum Oxide Alumina Ceramics
Featured Product from Xiamen Unipretec Ceramic Technology Co., Ltd.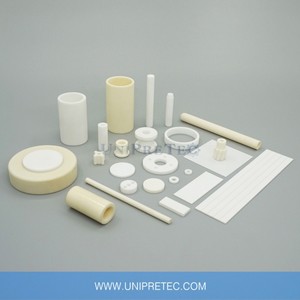 Alumina(Al2O3) is the most widely used advanced ceramic, Alumina Ceramic is electrical insulated, wear & corrosion resistant, high temperature resistant... Aluminum Oxide is an excellent material choice for various industries.
Material: Aluminum Oxide
Color: White & Ivory
Density: 3.66-3.90 g/cm3
Thermal Conductivity: 20-30 W/m.K
Max. Service Temperature: > 1500 degree C
Alumina Ceramic is the most widely used advanced ceramic. After high pressure pressed and high temperature sintered, Al2O3 is hard, chemical inert, electrical insulated, good thermal shock and high temperature resistant. People can find components made of Aluminum Oxide in various industries, like plungers and pistons in pumps, trays and setters in MIM sintering process, thick film ceramic substrates in electronic devices, high voltage insulators in electrical industry... UNIPRETEC offers Alumina Ceramic in high purity range from 90% to 99.7%, besides, we are good at manufacturing Aluminum Oxide Components by dry pressing, cold isostatic pressing, injection molding, tape casting, slip casting...