High Al2O3 Alumina Ceramic Washers
Featured Product from Xiamen Unipretec Ceramic Technology Co., Ltd.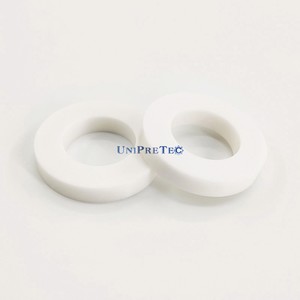 Alumina, also known as Aluminum Oxide, is a hard wearing advanced technical ceramic material frequently used in a wide variety of industrial applications. Once fired and sintered, it can only be machined using diamond-grinding methods. It features high hardness and wear resistance, low erosion levels, high temperature resistance, corrosion resistance, and bioinertness. Additionally, it can be highly polished making it useful for precision sealing applications like pumps and pistons.
Alumina is an excellent high temperature ceramic material due to its high temperature stability. It is the most commonly used type of advanced ceramic and is available in purities ranging from 95 – 99.9%. Precision Ceramics has access to many different types of Alumina including: injection molded, die pressed, isosostatically pressed, slip cast, and extruded.