Pushing the Limits of Metal 3D Printing!
Service Detail from Xometry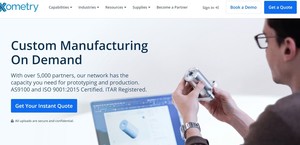 Aaron Lichtig, Xometry guy and former Jeopardy! champion, chats with SJ Jones, Additive Manufacturing Engineer at Siemens Energy, about pushing the limits of metal additive manufacturing, getting women involved in 3D printing, and the intoxicating smell of aluminum in the morning. About our guest SJ Jones is an additive manufacturing applications engineer from Orlando, FL currently working at Siemens Energy providing additive manufacturing solutions to the energy industry. She works with engineering teams on making metal additive parts to help create a decarbonized world. Most of those parts are aero-derivate and tend to be gas and steam turbine engine components. Outside of work, she's a part-time, struggling grad student pursuing my second Master's in Systems Engineering at the University of Central Florida and an active volunteer with the Oceania chapter of Women in 3D Printing which is working to close the gender-gap in additive manufacturing.