Tufline Multiport Sleeved Plug Valves
Product Announcement from XOMOX (A Crane Co. Company)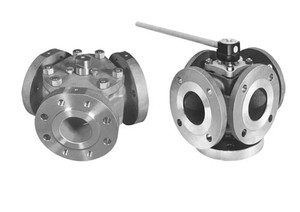 BI-DIRECTIONAL FLOW FOR MORE FLEXIBILITY. Bi-directional flow permits more system design options Bi-directional flow, simple actuation, lightweight, compact design, and multiport configurations all facilitate improved system design.
SUPERIOR, LONG-LASTING IN-LINE SEALING. The inert PTFE sleeve completely surrounds the plug. The sleeve provides a large, circumferential sealing surface from port to port. Open, closed, or rotating, the seal is assured. No ball or gate valve can match this sealing power.
The PTFE sleeve has a low coefficient of friction. It acts as a lubricant. Ease of operation is assured, even when the valve is left open or closed for extended periods.
SECURE SEALING WITH NO COLD-FLOW DEFORMATION, BLOW-OUT, OR ROTATION OF THE SLEEVE. The sleeve is securely nestled in the body. High pressure ribs, top and bottom retention, and 360° port lips all assure sleeve containment.
NO SEIZING. NO STICKING. As the plug rotates, the 360° lips provide a self-cleaning action to remove scaling and adhering media.
NO CAVITIES. NO CONTAMINATION. There are no body cavities where flow media can accumulate and contaminate subsiquant processing. The cavity-free design also prevents sticking.
---