Tufline Servere Service Valves
Product Announcement from XOMOX (A Crane Co. Company)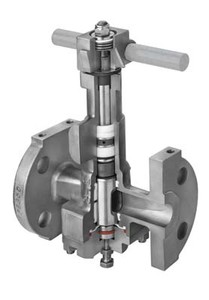 THE UNIQUE, INTEGRAL EXTENDED BONNET ENHANCES SEALING. In extreme frigid or thermal cycling conditions, PTFE packing will shrink. Packing shrinkage is minimized in this valve because the packing is located up in the bonnet, away from the media flow path.
PATENTED EXTERNAL SEALING SYSTEM
PRIMARY STEM SEALING-The first seal against stem leakage is accomplished by the PTFE sleeve, which encircles the top of the plug.
SECONDARY AND TERTIARY STEM SEALING-Double sets of PTFE chevron packing rings separated by a lantern ring act as a secondary and tertiary seal. The packing is placed away from the flow media to minimize the effects of thermal cycling.
EASY TO INSULATE-The extended bonnet allows several inches of insulation to be placed around all valve sizes while packing adjustment remains fully accessible. A PATENTED SHRINK-SEAL LIP STOPS FUGITIVE EMISSIONS- Temperature changes cause unequal expansion and contraction of valve components and sealing elements. With thermal cycling, packing shrinkage often leads to leakage along the stem.
With the patented Tufline design, radial shrinkage of the packing actually tightens the seal. An overhanging lip is machined into the interior bore of the bonnet. Radial shrinkage of the packing causes the packing to tighten inward against the lip, preventing leakage to the atmosphere.
MONITORING/INJECTION PORT-As an option, the packing chamber is available with a port for monitoring packing integrity or for grease injection. Graphite-filled PTFE ring.
A GRAPHITE-FILLED PTFE RING-prevents extrusion of the PTFE packing. It acts as a bearing between the packing and the stem base as well as between the stem and bonnet wall.
LIVE LOADING FOR CONTINUOUS SEALING-Live loading compensates for expansion and contraction of the PTFE packing that is caused by temperature fluctuations. The set of spring washers, located in the valve hub, provide a constant, uniform load on the packing.
SEPARATE, ACCESSIBLE, EASY SEALING ADJUSTMENT-Individual adjustment of the in-line seal and the stem seal assure maximum control, flexibility, and longer service life.
AN INDEPENDENT PLUG AND STEM ELIMINATE SIDE ON THE PACKING-In valves with a one-piece plug and stem, differential pressure against the plug of a valve can cause the stem to lose concentricity with the packing. This causes uneven stem pressure against the packing which can lead to external leakage.
In this valve, the stem is independent of the plug. A compensator, located between the stem and plug, keeps any differential pressure on the plug from affecting the stem's concentricity.
There is no side loading of the stem against the packing so leakage to the atmosphere is less likely to occur.
---