New BEVJET® Bag-in-Box Beverage Dispense System
Product Announcement from Xylem Applied Water Systems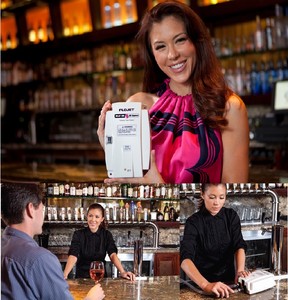 Flojet's New BEVJET® Bag-In-Box Dispense System is designed for dispensing wine, juice, teas or liquor.
BEVJET® is ideal for beverage dispensing requiring frequent tube changes, and flow rates from 0.8 to 1.0 GPM ml/min. The product dispenses safely through NSF Alcohol approved tubing and cleaning is as simple as replacing a tube.
BEVJET's system intelligence automatically stops and creates a vacuum when the bag is empty and automatically starts once new bag is connected. This unit's compact design allows it to be mounted intight spaces such as cabinets, carts and any under counter application. The new robust design combines innovative features and relentless testing to offer a pump with a long, trouble free service life.
Features and Benefits
Completely enclosed unit - Easy to clean, prevents contamination and minimizes noise.
Built in shut-off - Automatically shuts down the unit when the bag is empty and restarts the unit when a new bag is attached.
NSF certification - Ensures compliance with approved piping and fittings.
Quick disconnect port - Allows hose replacement in seconds.
Flojet electric diaphragm pumping technology - Ensures run dry capability, allowing for a long, trouble free service life.
Thermal protection - Avoiding costly service fees and peace of mind.
Long life motor - Outperforms many competitors by 400%.
---