Cyclone Meter Lubrication System
Featured Product from YZ Systems, Inc.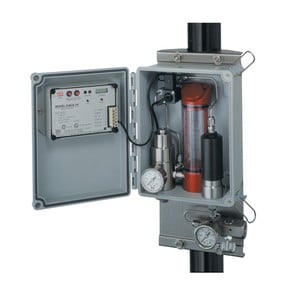 Capable of accepting pulses directly from a meter, index pulser, electronic corrector, or flow computer, the Cyclone can operate in Proportional-to-flow or time-based injection modes. Further refinement of the time based mode adds the capability of control from the YZ DPS-2 - Differential Pressure Switch allowing lubricant injection only when flow occurs in the pipeline.
Features:
Provides systematic lubrication
Versatile controller operates time-based or flow-based
Durable NEMA 4X fiberglass reinforced polyester enclosed to protect from the elements
On board LCD stroke & LED battery indicator
Adjustable filter/regulator
On board 6 ox. oil reservoir
Long life potted electronics
Intrinsically safe for Class I, Group C, D; FM approved, and CSA & Cenelec Certified
Convenient termination block for pulse and differential pressure switch input
Specifications:
C44 injection pump
Fixed displacement
0-1500 psi operating range
316 SS construction
Z-65 Controller
2-year battery life
On board 6-digit LCD counter
Diagnostic test functions.
Filter/Regulator