Medium Voltage Drives
Featured Product from Yaskawa America, Inc. - Drives Division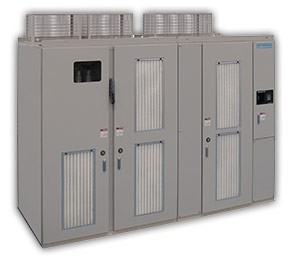 Yaskawa America's MV1000 medium voltage AC drive family is designed for energy savings and improved process control. MV1000 drives combine compact modular design, high efficiency, low harmonics, and industry leading MTBF into a medium voltage drive solution that is compatible with Yaskawa's popular 1000 series low voltage AC drive products.
Yaskawa's Smart Harmonics™ Technology reduces input Total Harmonic Distortion (THD) to less than 2.5% without filters which exceeds the requirements of IEEE519-1992 by almost 50%. This technology also provides galvanic isolation between power input and output.
The MV1000 uses two 5 voltage step bridges per phase to generate a high quality 17-level line-to-line voltage output delivered to the motor. The near sinusoidal waveform results in low THD voltage, low torque ripple, and excellent low speed torque, all motor friendly features, again without the need for output filters.
Several motor control modes are available to fit a wide range of applications: Open Loop Vector for smooth acceleration from low speed without an encoder, closed loop vector for demanding high performance applications, and synchronous motor control for retrofits to existing installations.
The MV1000 also features a compact modular design that facilitates transportation, installation, and maintenance. The design includes a transformer panel, power cell panel, control section, and cooling fans resulting in an industry leading MTBF (Mean Time Between Failure) greater than 200,000 hours. An optional, integrated input switchgear panel is also available with all UL/CSA recognized components.
These medium voltage drives are further simplified by incorporating the same interfaces as Yaskawa 1000 Series low voltage drives. This includes the same digital operator, parameter structure, a medium voltage version of the DriveWizard Plus software utility, various communication plug-ins and the same USB copy unit.
The MV1000 is available in 2.4 kV and 4.16 kV models in 4 different frame sizes. 2.4kV models are available with outputs ranging from 200 HP to 2750 HP, while 4.16kV models are available with outputs ranging from 300 HP to 5000 HP.