TACTILE AND DIP SWITCH
Featured Product from ZAGO Manufacturing Company, Inc.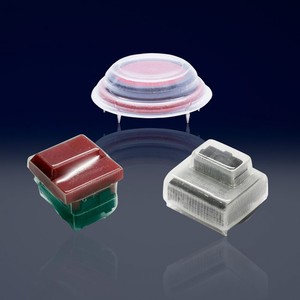 TACTILE AND DIP SWITCH
DEFEND THE DEVICES THAT DRIVE YOUR ENTERPRISE
These small devices–tactile and dip switches–are the key gateways through which a human finger push is converted into an electrical signal. These powerful, critical components must be adequately cared for, if one is to ensure optimal performance. Experts agree that the way one looks after tactile switches is by protecting them with ZAGO's Crystal tactile switch seals. ZAGO's coverings not only seal the tops of tactile switches, but they also seal the cut out section. Standard switches, with ZAGO's seals, become transformed into high functioning, top quality sealed tactile and dip switches.

Follow us on:
Watch>>>Established Company with the Heart of Start Up
ZAGO Sealing Products Comparison Chart
ZAGO
Based in Newark, NJ, ZAGO's self-sealing fasteners and switch boots are used in countless industries: aerospace, transportation, exterior LED lighting, medical devices, robotics and drones, energy, marine, electronics and more. Clients span the world and include major military contractors, Google, Ferrari, BOSE, Lockheed Martin, Raytheon, GE Energy, L3 Communications, and HP.
In addition to manufacturing contaminant-free products, ZaGO "walks the talk" of a sustainable company: implementing lean manufacturing processes, adopting a solar array on the rooftop to reduce pollution and conserve energy, recycling, and, as a member of the New Jersey Sustainable Business Registry, adhering to rigorous sustainability standards. Through its ZaGO Sustainability 360 program, the company provides education, field trips to its manufacturing facility, and scholarships to encourage children, teens and STEM students living in underserved communities to pursue a career in STEM or manufacturing.