What are High-Tech Sealing Fasteners?
Featured Product from ZAGO Manufacturing Company, Inc.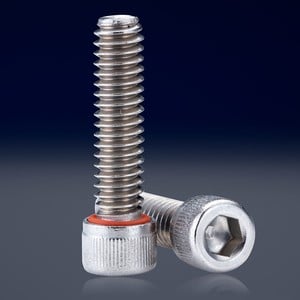 High-Tech Sealing Fasteners: What are they & when to use them?
Learn how ZAGO high-tech sealing fasteners (sealing screws, nuts, bolts, washers) with O-ring technology help engineers and OEMs solve their toughest sealing challenges; differ from ordinary fasteners; and are instrumental in sealing high-asset equipment, including, 3D cameras, satellites, LiDAR systems, sensors, medical devices, drones, robots, lithium batteries, marine and more.
DID YOU KNOW?
ZAGO sealing fasteners are highly specialized fasteners (sealing screws, sealing nuts, sealing bolts and sealing washers) that are configured with a rubber O-ring (or a rubber element) that when squeezed, permanently seal out a wide range of contaminants from entering and damaging equipment while preventing leakage of toxins into the environment.
THE DIFFERENCE
ZAGO high-tech self-sealing fasteners are engineered with a groove under the head of the screw or the face of the nut that when combined with a rubber O-ring and tightened, squeezes outwardly to form a 360-degree leak-proof hermetic seal. The undercut groove ensures that the O-ring will not break or crack once the screw is torqued, and the metal-to-metal contact prolongs the life of the O-ring, which is not compromised under pressure.
SEALING FASTENERS FOR ALL SEASONS
ZAGO sealing fasteners are designed to withstand harsh weather and extreme temperatures, such as when unmanned underwater vehicles survey the icy cold depths of the ocean floor to unmanned automotive vehicles operating in the extreme heat of the desert. They are vibration and pressure-resistant and outperform ordinary fasteners in highly pressurized environments, such as pneumatic pumps used in medical ventilators and pressure valves in industrial machinery.
WHEN TO USE ZAGO SEALING FASTENERS - KEY QUESTIONS
If the answer is yes to any of the following questions, then, it is essential to seal your equipment with sealing fasteners for long-lasting, air-tight, leak-proof protection:
Does your high-asset machinery / sensitive equipment need an air-tight, hermetic seal to:
Protect itself from exposure to oil, gases, liquids, chemicals, dust, dirt, moisture, salt water or other contaminants?
Withstand extreme pressure, temperature and/or weather conditions?
Prevent seepage of pollutants leaking into the environment?

FAST FACTS - ZAGO SEALING FASTENERS:
Usually have an unlimited shelf-life and are available in custom and standard sizes.
Are reusable, tamper proof and made of corrosion-resistant metals, like stainless steel and steel alloys, titanium, brass and Monel.
Are compatible with rubber O-rings made of Silicone, Fluorosilicone, Viton, neoprene, buna, Teflon and EPDM.
Are pollutant-free, made in the U.S.A. and sold worldwide.
Are available with military and FDA grade O-rings and sealing screws that meet Military Standard NASM 82496 and pressure resistant to 1500 psi.
Are DFARS, REACH, RoHS and DEKRA compliant and NEMA ready for electrical enclosures.
Are used in myriad industries, including Robotics & Drones, Military & Aerospace,Agriculture, Medical Device, Telecommunications, Transportation, Marine, Electronics & Enclosures, Commercial Lighting, Energy Generation & Recovery, Heavy Equipment and more.
ZAGO Sealing Products Comparison Chart
Watch>>>Established Company with the Heart of Start Up
ZAGO
Based in Newark, NJ, ZAGO's self-sealing fasteners and switch boots are used in countless industries: aerospace, transportation, exterior LED lighting, medical devices, robotics and drones, energy, marine, electronics and more. Clients span the world and include major military contractors, Google, Ferrari, BOSE, Lockheed Martin, Raytheon, GE Energy, L3 Communications, and HP.
In addition to manufacturing contaminant-free products, ZaGO "walks the talk" of a sustainable company: implementing lean manufacturing processes, adopting a solar array on the rooftop to reduce pollution and conserve energy, recycling, and, as a member of the New Jersey Sustainable Business Registry, adhering to rigorous sustainability standards. Through its ZaGO Sustainability 360 program, the company provides education, field trips to its manufacturing facility, and scholarships to encourage children, teens and STEM students living in underserved communities to pursue a career in STEM or manufacturing.