Multicompartment Underground Fuel Tanks
Featured Product from ZCL Composites, Inc.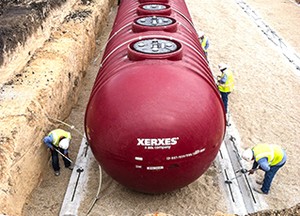 Fuel marketers and fleet fueling owners often need to store different grades and types of fuel in a single location. ZCL | Xerxes multicompartment fiberglass tanks, compatible with petroleum, diesel and new biofuels, offer a wide range of fuel storage possibilities in a single, compact installation.
Other benefits start the moment the tank leaves the manufacturing facility. Shipping and installing a multicompartment tank rather than several tanks often saves space and money. Insurance and permitting costs may also be reduced. Our multicompartment tank comes standard with a double-wall fiberglass bulkhead and eliminates the added cost of upgrading to a double-wall bulkhead often required with steel tanks.
Features
100% premium fiberglass and resin
Corrosion-resistant inside and out
Secondary containment around full circumference of tank
UL-listed (1316) and ULC-listed (615) for alcohol fuels
Structurally strong cylindrical tank with integral rib construction
3D glass fabric (Parabeam®) bonding the tank walls together for added strength
Designed to withstand surface H-20 and HS-20 axle loads
Lightweight so easy to ship and easy to install
Monitoring options - dry and hydrostatic
Accessories fitting a variety of applications
Available in capacities up to 40,000 gallons in the US
Available in capacities up to 155,000 liters in Canada (for tanks manufactured in US)
30-year limited warranty