Comparison of Rechargeable Batteries WHITE PAPER
Featured Product from ZPower, LLC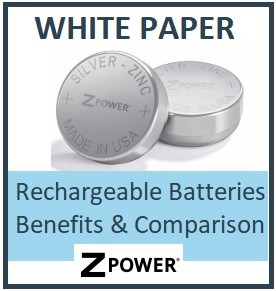 Design engineers are continuing to innovate in the consumer electronics and medical device markets; developing smaller, yet more powerful devices. A primary challenge the designers face is how to miniaturize a device around the large batteries previously required for such applications.
Learn about:
Energy Density
Dimensions
Capacity
Cycle Life
Environmental Concerns
Transportation Considerations
Potential Applications
This white paper provides design engineers with insight on the options and benefits of integrating rechargeable microbatteries into their designs.