Overnight Success 21 Years in the Making
Featured Product from ZPower, LLC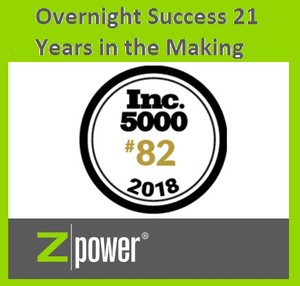 In August ZPower proudly announced that we made the 2018 Inc. 5000 – The Magazine's Top 5000 Fastest Growing Private Companies List. And we didn't just make the list – we debuted at #82. It's a very exciting time for our company and for the rechargeable microbattery industry as a whole.
With so many small electronics slated to hit the market in the coming years, finding our place as the safer, more powerful alternative to traditional rechargeable chemistries couldn't have come at a more opportune time.
2018 will be remembered in ZPower's history as the year that we, as a company, shot up into the spotlight reserved for truly successful U.S. companies. But, as the article that Inc. wrote about our pathway to success illustrates, we didn't get there overnight. Rather, our success has been hard-won over years of dedication and enthusiastic determination – even when the chips were down.
Inc has lauded ZPower's Dedication, Determination and a Willingness to Change Course
Read the article from Inc.: