Rechargeable System for Hearing Aids
Featured Product from ZPower, LLC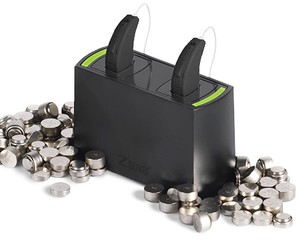 The award-winning ZPower Rechargeable System makes current or new hearing aids rechargeable and is capable of energizing today's most powerful hearing aids for a full day of uninterrupted use. Hearing aid wearers can simply set their device on a charging stand overnight, instead of replacing the batteries every few days. For users who are elderly, the freedom from fumbling with tiny batteries is an immeasurable value that impacts their quality of life.
The Rechargeable System offers continuous, stable, uninterrupted power, providing confidence that hearing aids will never run out of energy in an average day. A pair of ZPower microbatteries can take the place of an estimated 200 disposable batteries per year. The batteries are replaced once per year by a hearing care professional, so the patient never has to touch a hearing aid battery again.
Learn more about the Rechargeable System for Hearing Aids by visiting our product microsite.