Solving The Battery Waste Problem
Featured Product from ZPower, LLC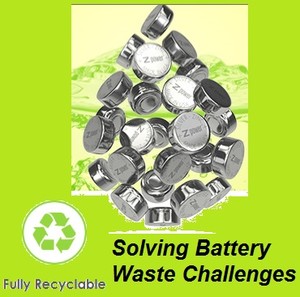 In the U.S. we buy over three billion dry-cell batteries annually to power our personal gadgets - generating over 180,000 tons of battery waste. With the increasing need for mobile power and smaller devices, including wearables, demand for batteries is projected to increase by 7.7% in 2019.
The pros and cons of this trend are numerous. While increased demand is great for battery manufacturers, product design is posing new problems for the recycling industry. As technology continues to require more power from smaller batteries, issues, such as recyclability, waste volume and safety, are requiring more innovation and options from both battery engineering and chemistry.
Wearables and the Issue of Recycling
The wearables market is slated to grow threefold in the coming years, with 245 million devices sold by 2019. And while innovation is propelling new devices to market at a rapid clip, safety and manufacturing costs are creating an end-of-life product recycling problem that can have huge negative implications. Namely, the batteries in wearable devices are being increasingly glued and/or sealed into their products, making disassembly expensive, if not impossible. According to a recent article by Call2Recycle CEO and President Carl Smith, this trend in product design in both wearables and other common electronics helps keep manufacturing costs down and cuts down on product weight. Sealed-in batteries also provide an added layer of battery safety for the consumer, but, as Smith notes, because disassembly is so cost prohibitive, more and more whole products designed in this fashion are ending up in landfills. The results are fewer opportunities for recycling all of the various components in use and greater opportunities for battery waste to act as a landfill contaminant.