World's Highest Energy Rechargeable Microbattery
Featured Product from ZPower, LLC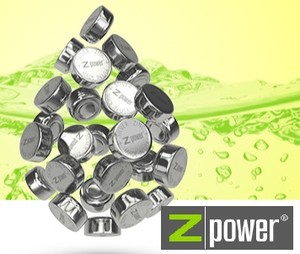 Safe, long lasting, energy dense, rechargeable & made in the USA. After nearly two decades of research and over 100 published patents ZPower has developed a proprietary silver-zinc battery technology that can be recharged 100's of times without losing significant capacity.
The Most Energy with 88% more energy than leading nickel-metal hydride microbatteries and 25% more than Lithium Ion in the smallest Li-on cell available today.
Safe & Stable Water based chemistry, non-flammable and ideal for medical and wearable applications. ZPower batteries have passed all relevant UL 2054 & IEC 62133 safety requirements. As a dry battery, silver-zinc is exempt from UN38.3 & most other lithium-ion international shipping regulations.
Rechargeable Hundreds of Times Our microbatteries and perfect for any application that requires long lasting energy.
Made in the USA Designed, engineered and produced in Camarillo CA
See the details of the sizes and powers available HERE
And request your Product Development Kit Here