ZPower XR44 Size 675 Rechargeable Battery
Featured Product from ZPower, LLC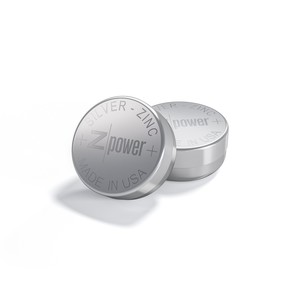 Small On Size. Big On Power.
ZPower's silver-zinc rechargeable battery technology delivers over 40% more energy storage than other rechargeable miniature batteries.
Long Lasting
ZPower has developed a proprietary silver-zinc microbattery technology that can be recharged hundreds of times without losing significant energy.
Eco-Friendly and Safe
ZPower's batteries are one of the most environmentally responsible batteries available. They are water-based, nonflammable and fully recyclable. ZPower batteries have been tested by TUV Rheinland, passing all relevant UL2054 and IEC 62133 safety requirements.
American-Made Power & Quality
Every ZPower battery is made by American workers at our manufacturing plant in Camarillo, California.
Click here for more information.
ZPower is dedicated to constant innovation to build and improve upon our proprietary, patent-protected battery technology. At the heart of every ZPower application is our core product: the rechargeable microbattery. Based on a silver-zinc chemistry, the ZPower microbattery delivers consistent, stable energy, is safe and environmentally sustainable and is easily scalable to multiple applications and devices across a broad spectrum of industries.
In the microbattery category, size does matter. Batteries made from silver-zinc deliver greater energy density than comparative compounds such as lithium-ion. And our silver-zinc battery can match and exceed the performance, safety and environmental benefits of any other rechargeable microbattery on the market today.