Heat Shrink Tubing
Product Announcement from Zeus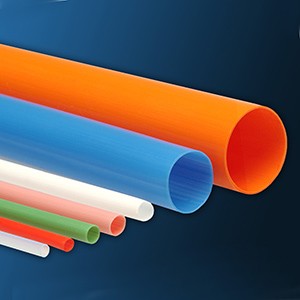 Heat shrink tubing provides a state of the art method for the application of a tight, protective covering to items that will be subjected to the extremes of heat, corrosion, shock, moisture, and other critical environmental conditions.

Zeus manufactures high-performance shrink tubing in a variety of polymer resins, including: PTFE, FEP, PFA, PET, PEEK, and PTFE/FEP Dual-Shrink®.
Provided in the expanded state, Zeus heat shrinkable tubing "shrink wraps" intricate and irregular shapes with a simple application of heat. The result is a protective covering that greatly extends life, increases reliability, and improves performance of components and parts used in thousands of applications.
Heat shrink tubing extends the life of such items indefinitely and assures their reliable performance. For more than 50 years, Zeus has supplied the medical, electronics, aerospace, automotive, oil and gas, and many other industries with high-performance polymer heat shrink.
Zeus heat shrink tubing offers a unique combination of properties, including outstanding electrical characteristics; excellent chemical and solvent resistances; purity, lubricity; and outstanding performance reliability.
Heat Shrink Features
High Strength
Outstanding electrical characteristics
Excellent chemical & solvent resistance
Purity
Uniformity
Lubricity (slippery)
High dielectric for superior insulation
Shock & abrasion resistance
Reliable operational performance up to and exceeding 500 °F
Closest tolerances & unmatched concentricity
Conforms to and frequently exceeds both military and commercial standards
Heat Shrink Application Tips
Tips for applying heat shrink tubing can be found here.
Custom Heat Shrink Tubing
Zeus manufactures custom heat shrink to the specific sizes you require. They will help you select the ideal material for your unique application. Through resin and processing method selections, Zeus can assist in customizing the heat required to shrink the tubing.
Standard Size Heat Shrink Tubing
In addition to custom heat shrink sizes, heat shrinkable tubing is offered in a variety of sizes, dimensions, and shrink ratios. Click the links at the top right or download their product catalog (available in six languages) to find out more about their standard sizes of heat shrink tubing.
Wide Selection of Materials
Zeus has developed the technology to manufacture heat shrink in a wide range of polymers such as Teflon® (PTFE, FEP, PFA), ETFE, PET, PEEK, and more. Additional information on the properties of the resins they extrude can be found in their Tech Info section.
Heat Shrink Applications
Typical applications using their heat shrink tubing are as diverse as component covering, water proofing, mechanical protection, strengthening, shock protection, abrasion protection, corrosion protection, encapsulation, insulation, dust proofing, sterilization, splicing, cable binding and tying, strain relief, marking, and coding.
Standards
All of their products conform to both military and commercial standards, and in most cases, exceed the intent of these standards. Whether you are interested in the aerospace, electronic, electrical, chemical, optical, medical, nuclear, or automotive fields, they are confident that their company can assist you with your heat shrinkable tubing needs.

Play Heat Shrink Tubing Video
---