PEEKshrink® Heat-shrinkable Tubing
Product Announcement from Zeus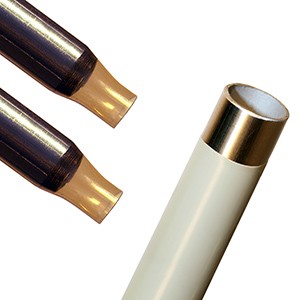 Secures performance of sensitive items in challenging environments
PEEK, a linear semi-crystalline aromatic polymer, is considered the highest performing thermoplastic material due to its ability to withstand extreme temperatures, high pressure and caustic fluids. Now Zeus has taken PEEK to an entirely new level of performance with the introduction of PEEKshrink® - PEEK heat-shrinkable tubing.
PEEKshrink® provides a "shrink to fit" layer of protection for sensitive or critical components used in a variety of applications such as medical devices, electronics, telecom hardware and oil exploration equipment. The polymer's inherent purity and lubricity make it an ideal choice for analytical and life sciences applications.
An alternative to traditional protective coatings like Teflon®, PEEKshrink® is ideally suited for challenging environments where extreme heat or cold, intense pressure, chemicals, water, or dielectric interference pose a threat to wires and electrical components.
When shrunk onto components, PEEKshrink® forms an impenetrable "second skin" that is impervious to contaminants preserving the integrity and performance of whatever is inside.
Zeus' experience with PEEK in terms of material modification and extrusion has enabled them to elevate several key performance attributes of PEEKshrink®, giving design engineers more options of standard as well as customized sizes, tolerances and shrink ratios for a range of projects. Let them show you what Zeus can make PEEKshrink® do for you.
Applications
Electrical component covering
Medical device protection
Wire/cable encapsulation or insulation
Impact and wear resistant insulation
Mandrel covering
Capabilities and Sizing
Available in colors for identification purposes
Available in cut lengths or continuous lengths, spooled
Consistent shrink ratios of 1.4:1 and up
Expanded ID range of 0.038" to 2.50"
Recovered wall range of 0.004" to 0.010"
Key Properties
High continuous service temperature (500 °F/260 °C)
Extends life of the protected item
Assures reliable performance
Adhesion to metals
Translucent recovery shrink temperature 572 °F - 644 °F (300°C - 340 °C)
Opaque recovery shrink temperature 680 °F - 725 °F (360°C - 385 °C)
---