Top Performance w/Dual-Shrink® Heat Shrink
Featured Product from Zeus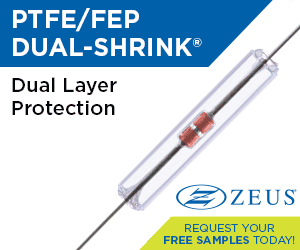 Zeus' PTFE/FEP Dual-Shrink® provides all of the protection and convenience of FEP combined with the toughness and durability of PTFE. With the application of heat, Dual-Shrink's® inner FEP layer melts onto splices and around connectors and other vital parts. Meanwhile the outer PTFE layer shrinks to form a tight, nearly solid encapsulation. Dual-Shrink® shields components from environmental hazards and from the stresses of pulling and vibration.
With Dual-Shrink® protection, you get:
Abrasion Resistance
Chemical Resistance
High Heat Tolerance
Dual-Shrink ® is also strong and excels in environments where a single heat shrink is just not good enough. This unique bilayer encapsulation is transparent allowing you to see the covered parts and is temperature resistant up to 450 °F (232 °C). See us at the International Suppliers Fair (IZB), October 16-18, 2018, in Wolfsburg, Germany, for free samples! Find us easily at Hall 1, Stand 1103.