CERAMIC HEATING ELECTRIC TUBE
Featured Product from Zhuhai Cersol Technology Co., Ltd.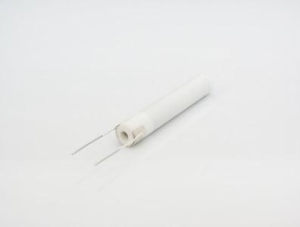 Characteristic
Product Name?G050060025
Specification: Length: 50.0±1.0mm
Outer Diameter: 6.0±0.1mm
Inner Diameter: 2.5±0.1mm
Appearance: no stain and crack; no impurities; no oxidation.
Voltage: can be customized according to customers'needs
Electrode: Electrodes are welded with nickel wire?can be customized according to customers' needs?
Lead tension: horizontal pull≥5KGf?Vertical tension≥3KGf
High-voltage insulation test: 3700V/1S?leakage current≤0.62mA
Insulation resistance: >100MΩ?500VDC?
Application
It is widely used in daily life, industrial and agricultural technology, communication, medical treatment, environmental protection, and many other fields requiring medium and low temperature heating.
In the household electric heating appliances, such as small air heating device, hair dryer, clothes dryer, heating machine, electric splint, etc.
In industry, such as industrial drying equipment, electric bonding device, liquid heaters.
In the electronic industry, such as thermostatic bath for small special crystal devices;
In medical treatment, such as infrared therapy instrument, intravenous injection heater and so on.
Product Parameter
item

test condition

unit

performance

experimental method

color/state

white?dense

material of substrate

≥96%alumina

density

g/cm3

?3.7

GB/T 2413-1980

warpage

mm

?0.2mm

lead tension

kg

horizontal pull≥5KGf,

vertical tension≥3KGf

SJ/Z 9001.33-1987

flexure strength

MPa

?300

GB/T4741-1999

thermal conductivity

25±1?

W/(m.K)

≥20

compression strength

25±1?,

110V:1800V/10SEC;

220V:3700V/1SEC

leakage current?0.62 mA

insulation resistance

DC500V

MΩ

?100

GB/T 10064-2006

resistance

25±1?

Ω

according to customer requirements: ±10%

cyclic experiment

rated voltage and operating temperature?

generally, ≤280?

cycle 1000 times without damage

power-on test

at rated voltage, direct current in air within 20 seconds;
the surface temperature is between 600? and 750?

no damage

high temperature endurance test

ceramic heating element under the highest temperature condition;
generally 500-700?, continuous electricity.

> 24 hours