SILICON NITRIDE MEDICAL APPLICATIONS
Featured Product from Zhuhai Cersol Technology Co., Ltd.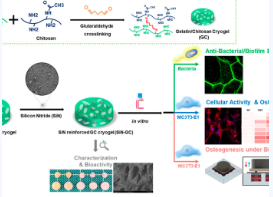 Recently, a study from the Institute of Biomechanics of ETH Zurich in Switzerland showed that a SiN-GC cryogel system developed by a research team not only verified its use as a new method for bone tissue engineering, but also confirmed that silicon nitride can be used as a It is a kind of bioceramic with great potential.
As the picture shows. First, gelatin/chitosan cryogel (GC) was synthesized by cross-linking between gelatin and chitosan through a glutaraldehyde-mediated cryogel process, and GC was enhanced with silicon nitride (SiN) to prepare SiN-GC. After analyzing the properties and biological activities of SiN-GCs, the researchers conducted in vitro experiments to investigate biological properties such as antibacterial effects, cellular responses, mineralization, and osteogenesis under static and cyclic loading conditions.
The researchers also developed a bioreactor for culturing cell-laden scaffolds under cyclic compressive loads to mimic physiological conditions, and were able to demonstrate that SiN-GC improved mineralization and osteogenesis, demonstrating that silicon nitride acts as a biological The material system components have broad potential for further development for bone tissue engineering applications.