SILICON NITRIDE PRODUCTS
Featured Product from Zhuhai Cersol Technology Co., Ltd.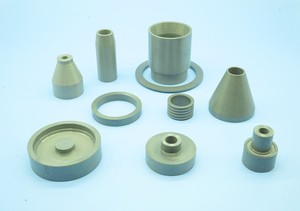 Product Parameter



Sintering Method

Density g/Cm3

Bending Strength

Mpa

Microhardness

Hv10

Breaking Tenacity

Mpa.m1/2

Elasticity Modulus

Gpa

Gas Pressure Sintering

>3.20

750-1000

1500-1700

7-8

310
Chracteristic
1?Unique high strength, high hardness.
2?High wear resistance, corrosion resistance, high temperature resistance.
3?Good oxidation resistance, thermal shock resistance, and mechanical shock performance
4?Small thermal expansion coefficient, low friction coefficient, anti-magnetic, electrical insulation, and small specific gravity.