System-level Electronics Design Environment
Product Announcement from Zuken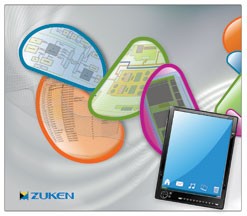 System Planner - For up-front planning and partitioning of electronics systems
September 15, 2011 - Munich, Germany and Westford, MA, USA - Zuken today announces a new system-level design environment for up-front planning and partitioning of electronics systems, called System Planner. This solution enables engineers to optimize form, fit and function of single and multi-board systems, maximizing design reuse and eliminating the need to reenter initial planning data into the design tools during detailed design. System Planner has been shown to reduce design throughput time by as much as 30% in companies who have adopted it in their design process.
"System Planner is a solution that can link our new product planning tasks together. It will save time and improve the connectivity of our data during circuit development, design reuse, layout and mechanical packaging," says Jerry Murray, PCB Design Team leader at Cummins Power Generation.
Zuken's System Planner is used at the beginning of the design process where requirements are implemented in practical product designs. This is the stage where a product is configured and crucial design decisions are made, such as how many boards are in the system and what functions are on each board. The user can simultaneously work on the tasks of BOM planning, functional planning, floor planning and space planning; steps that were once disconnected are now intelligently brought together in one view to optimize the product planning phase. System Planner feeds all of these details into Zuken's schematic, PCB layout and manufacturing tools, saving time and effort throughout the entire design process.
System Planner Modules
System Planner's four main modules work together or standalone, and may appear individually or simultaneously on the screen for real-time interaction with each other. When one view is changed, the others automatically update. Click here to learn more about the 4 modules.
About Zuken
Zuken is a global provider of leading-edge software and consulting services for electrical and electronic design and manufacturing. Founded in 1976, Zuken has the longest track record of technological innovation and financial stability in the electronic design automation (EDA) software industry. The company's extensive experience, technological expertise and agility, combine to create world-class software solutions. Zuken's transparent working practices and integrity in all aspects of business produce long-lasting and successful customer partnerships that make Zuken a reliable long-term business partner.
Zuken is focused on being a long-term innovation and growth partner. The security of choosing Zuken is further reinforced by the company's people-the foundation of Zuken's success. Coming from a wide range of industry sectors, specializing in many different disciplines and advanced technologies, Zuken's people relate to and understand each company's unique requirements. For more information about the company and its products, visit www.zuken.com.
---