Zurn's 2nd Annual Specifier of the Year Contest
Featured Product from Zurn Industries LLC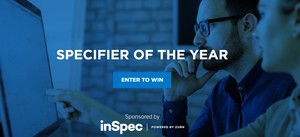 MILWAUKEE, WI – Zurn Industries, LLC is pleased to announce the second annual inSpec Specifier of the Year contest. The company will recognize an American Society of Plumbing Engineers (ASPE) member who uses technology to improve the entire plumbing specification process.
"The experts who seek out and optimize technologies for plumbing specification shape our industry," said David Krohn, Zurn Vice President of Digital Marketing and eCommerce. "They frame how we think about process automation and drive how we engineer tools, like inSpec, powered by Zurn. Last year was the first year we rolled out inSpec Specifier of the Year. The contest attracted ASPE thought leaders and activated productive dialogue around future innovation. We're excited to bring it back and look forward to more influential submissions."
The contest runs from Jul. 1 through Aug. 22, 2020. ASPE members can submit their entries at zurn.com/specifieroftheyear. In 500 words or less, they should tell the contest panel how they have cut time and steps or improved efficiencies using technology when specifying plumbing projects.
The winning specifier will receive two tickets to a Las Vegas Raiders game at Allegiant Stadium, as well as lodging and airfare. Certain restrictions apply. No purchase is necessary to enter the contest. A complete list of contest requirements and terms and conditions can be viewed at zurn.com/specifieroftheyear. The winner will be announced shortly after the contest closes.
About Zurn Industries
Zurn Industries, LLC is a recognized leader in commercial, municipal, healthcare and industrial markets. Zurn offers the largest breadth of engineered water solutions, including a wide spectrum of sustainable plumbing products. Zurn delivers total building solutions for new construction and retrofit applications that enhance any building's environment. For more information, visit Zurn.com.
FOR MORE INFORMATION
Leslie McGowan
Marketing Communications
leslie.mcgowan@zurn.com
814-871-4757