Hardness Testing Instrument DynaPocket
Product Announcement from Zwick USA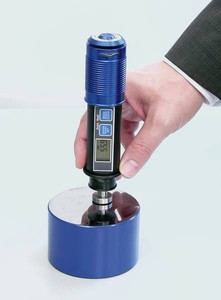 DynaPocketThe Zwick DynaPOCKET PLUS is a pocket-sized hardness tester designed for rebound hardness measurements to ASTM Standard A 956.
The instrument works on the rebound method, in which a spring is used to propel an impactor against the test surface. Following non-contact measurement of impact and rebound speeds, these two values are used to calculate the hardness value. The harder the material, the greater the rebound speed and the indicated hardness value. The rebound method offers high precision and reproducibility of measurement, giving especially reliable testing.
The Zwick DynaPOCKET is easy to use - simply select the appropriate material group from the 9 for which standard conversion tables are stored in the instrument. Conversion to the following scales is possible: HL (Leeb), HV (Vickers), HB (Brinell) and HRB (Rockwell B).
The Zwick DynaPOCKET can also perform conversions to DIN 50150 and ASTM E 140 for low-alloy/non-alloy steel and cast steel.
The rebound hardness test with the Zwick DynaPOCKET is particularly suited to very large workpieces made of steel or cast materials.
---