Optical Windows
Featured Product from Zygo Corporation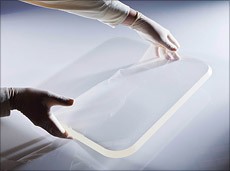 An optical windows is a polished piece of material that is transparent at some portion of the electromagnetic spectrum, which allows the desired portion of the spectrum to pass into an optical instrument unaltered. Some common types of windows we produce include:
• Conformal Windows
• Debris Shields
• Laser Windows
• Metrology transmission flats
• Periscope Windows
• Vacuum Windows
• Viewports
ZYGO's optical windows are created using stringently controlled fabrication processes, allowing them to function reliably in a variety of extreme environments. ZYGO windows are found underwater, in deserts, at high altitudes and orbiting the earth.
The ZYGO Advantage
We customize every optical windows to meet or exceed your requirements. The windows we create are unique, requiring cutting-edge fabrication technologies. ZYGO's proprietary processes allow us to create optical windows meeting challenging specifications, such as:
• Sizes up to and exceeding one meter diameter
• Excellent transmitted wavefront error
• High aspect ratio
• Accurate wedge tolerance
• High flexural strength
• High laser induced damage threshold
• Complex geometries
Applications
ZYGO has a long tradition of manufacturing custom optical windows for a wide variety of applications. Combining our metrology expertise, manufacturing experience, durable coatings and environmental testing capabilities allows us to provide you with data ensuring we deliver products meeting your most demanding requirements.
- Intelligence, surveillance & reconnaissance (ISR)
- FLIR sensing systems
- High Energy Laser (HEL) / directed energy programs
- Manufacturing in ISO 13485:2003 compliant facility
• Research and Development
- Physics particle research
- Earth science satellites
Materials
ZYGO is capable of processing a wide variety of optical materials for use in the UV, visible, and IR wavelength regions. Our engineers are prepared to help specify or suggest material choices based on cost, schedule and performance to fit your specific applications.