Glass & Ceramic Machining
Service Detail from Zygo Corporation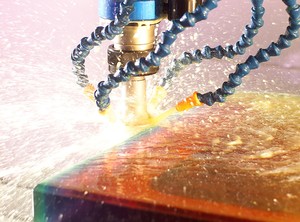 World-class precision CNC glass & ceramic machining services, by Zygo
For high precision applications, such as positioning stages and reference surfaces, glass and ceramic materials are often favored over metals due their higher rigidity and much lower coefficient of thermal expansion. Machining and finishing components such as positioning stages, wafer chucks, pin chucks (with lithographic patterning), bar mirrors, and light-weighted optics require special expertise. ZYGO's proprietary machining techniques enable us to fabricate stage and optical components with complex geometries to exacting dimensional and angular tolerances and surface finishes.
Machined monolithic & light-weighted structures, including intricate, slender, high aspect ratio components, with datum and precision holes and inserts, and kinematic mounting interfaces, are all examples of precision machined components that ZYGO produces. Sizes of these components can range from less than a centimeter to a meter or more.
Extreme Precision, Done Routinely
Our customers often require us to control nanometer-level tolerances on global and local (die-level) flatness, surface roughness, and total thickness variation (TTV), and sub-arcsec tolerances for perpendicularity and parallelism specifications. Our unique glass and ceramic machining equipment, combined with years of experience developing process-oriented techniques, enable us to not only fulfill these stringent requirements on a routine basis, but to ramp up to produce such components in volume if need be.
Assuring that components meet or exceed specification is an integral part of the manufacturing process. Depending on the type of component, we use a number of metrology tools for ensuring conformance to specification for dimension, geometry, surface form, and surface roughness. These tools may including collimators, coordinate measuring machines, and ZYGO's industry-standard laser interferometers and optical profilers.
Coatings
Glass & ceramic machined components may be left uncoated, or we can apply precision optical coatings to enhance the transmission or reflection of light at the surface of an optic, or improve wear resistance. Coatings are created with a variety of materials (including oxides, metals, nitride, and rare earth materials) deposited on the optical surface in our in-house coating facility, using specialized methods (electron beam, sputtering, etc.) and state-of-the-art equipment. The exact combination of material and method depends on the purpose the optical coating is intended to serve. ZYGO coating experts are available to advise you on the optimum coating for your application.
One Source
Part of ZYGO's value lies in our ability to handle all aspects of a project, which relieves you of the burden of finding and coordinating with separate suppliers for each part of the process. Whether you need a single optical component, or a fully integrated system, we meet you at your point of need through both internal resources and strategic partnerships with trusted vendors. From material selection, through design, machining, polishing, coating, integration, and quality control, ZYGO is the one source for your project's success.
Key Features
5-axis ultrasonic CNC machining of glass and ceramic material - 3 to 5 times faster than traditional CNC machining
3- & 4-axis conventional CNC glass machining
Post-machine etching
5 µm tolerances typical; 2 µm on key features, post-acid etch
CNC edge shaping
Proprietary tool designs
Very fine surface finishes available
Tight angular tolerances
Complex geometries
UHV compliant
Sizes > 1 meter
Materials
Glass
Low-expansion ceramics such as ZERODUR® and CLEARCERAM®
Exotic materials such as sapphire and water clear zinc sulfide.
Single- and polycrystalline materials