Optical Materials
Service Detail from Zygo Corporation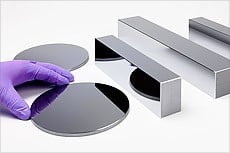 The ZYGO Advantage
ZYGO's engineers, master opticians, coating technicians and assemblers specialize in bringing the most challenging designs to life. We have over 45 years of experience in fabricating optics for use in the most extreme operating environments.
As a worldwide leader in the field of metrology, we leverage our knowledge to remain on the cutting edge of the optics industry. We create custom optics and assemblies in whatever quantities you require, from a single prototype to OEM volume.
ZYGO Services
From the preliminary design phase, to prototype and production, ZYGO remains a highly-engaged partner, providing a variety of services and support. With our extensive knowledge, we don't just fabricate optics - ZYGO specializes in working with you to select the proper material based on the design benefits and trade-offs for your unique applications.
Material Expertise
ZYGO is capable of processing a wide variety of optical materials. Our engineers are prepared to help specify or suggest material choices based on cost, schedule, and performance to fit your specific applications.
Our experience includes working with:
Amorphous
Glass
• Optical Glass
• Fused Quartz
Low Thermal
Expansion
Materials
• ULE®
• ZERODUR®
Crystalline
Materials
• Calcium Fluoride
• Sapphire
• Silicon
• YAG
Advanced
Ceramics
• AlON
• Spinel
• Zinc Sulfide (multispectral)
• Zinc Sulfide (standard)