Affordable BenchTop 3D Optical Profiler
Featured Product from Zygo Corporation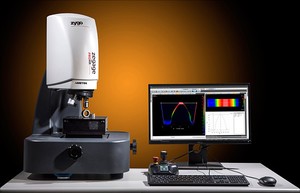 The ZeGage Pro optical profiler expands on the capabilities of the ZeGage profiler with higher precision, faster measurement speed, and an increased range of measurable surfaces - while preserving its ease of use, vibration insensitivity, and small footprint.
The ZeGage Pro profiler can measure a wider variety of surfaces - ranging from very rough to super smooth, with sub-nanometer precision, independent of field of view. Surface finishes may include ground, honed, lapped, polished, and super-polished on materials such as glass, ceramic, and metal.
For high-speed form measurements, the ZeGage Pro scans up to twice as fast as the ZeGage, providing faster time-to-data and increased throughput for production metrology.
As with the ZeGage profiler, the interactive control software, Mx™, provides easy and detailed visualization to help you control your process. Read more to see how the power, versatility, and value of the ZeGage Plus profiler can benefit you.
Powerful Performance
Proprietary non-contact measurement technology has low sensitivity to vibration effects, eliminating the need for vibration isolation platforms in most applications.
Quantitative surface metrology with sub-nanometer precision provides superior gage capability.
Correlates to 2D and 3D standards, and complies with ISO 25178 surface roughness parameters.
High-resolution 1 million pixel image sensor provides fast areal measurements in seconds, for excellent surface detail and visualization.
Integrated autofocus and focus aid simplify part setup and minimize operator variability.
Fully-automated measurement sequences and field stitching enable high resolution inspection of large areas. (Requires optional motorized part stage.)
Versatility
Measures a wide variety of surface materials and finishes, from rough to super smooth, including steep slopes and large steps
2D and 3D profiling of surface texture, form, step-height and more.
Non-contact metrology technique prevents part damage.
Selectable magnification and field-of-view with numerous imaging and system options.
Included Mx software provides comprehensive tools for surface data visualization, analysis and reporting.
Area-based measurement is insensitive to part lay.
Productivity and Value
Cost-effective price-to-performance ratio compares favorably to alternative systems, including mechanical contact stylus profilers.
Compact, vibration-tolerant SureScan™ technology for easy integration anywhere in your facility.
Non-contact method means no consumable replacement costs to worry about.
Simplified operation results in low training and service costs.
High-output, long-life LED light source for years of trouble-free operation.
Measurements require no consumables.