Automated High Precision 3D Optical Profiler
Featured Product from Zygo Corporation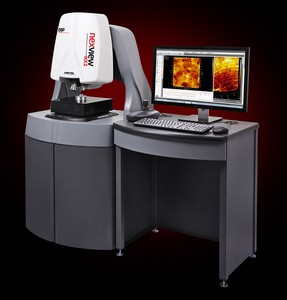 Designed for the most demanding applications, the Nexview™ NX2 3D optical profiler combines exceptional precision, advanced algorithms, application flexibility, and automation into a single package that represents ZYGO's most advanced Coherence Scanning Interferometric (CSI) profiler.
The completely non-contact technology optimizes the return on investment by delivering sub-nanometer precision at all magnifications and measuring a wider range of surfaces faster and more precisely than other comparable technologies commercially available. With applications as varied as flatness, roughness and waviness, thin films, step heights and more on virtually any surface and material, Nexview NX2 truly is the no-compromise profiler.
As the latest generation flagship, Nexview NX2 provides a wide range of differentiated features targeted at making users' metrology better, faster, and more reliable:
Large-area 1.9 MP sensor with high sensitivity lets you see more in a single measurement
High-speed measurements take only seconds for improved productivity and process control
Automated part focus and setup minimizes operator variability and training while reducing the time to data
Gage capable performance through exceptional precision and repeatability for the most demanding production applications.
Vibration robust metrology with SureScan technology and built in isolation enables high quality metrology even in vibration-prone environments
SmartPSI™ technology for ultra-fast profiling of ultra-smooth surfaces
2D and 3D correlation provides confidence in your measurements with results that comply to ISO 25178 and ISO 4287 standards.
Mx™ software for instrument control, analysis, and measurement automation
True Color imaging for enhanced visualization
Variable image zoom with three included zoom lenses lets users optimize the field of view and maximize instrument flexibility
The Only Profiler You Need
You no longer have to select a profiler based on the type of surface you want to measure. The Nexview NX2 profiler measures topography of virtually any surface from a super polished optical surface with sub-Angstrom surface roughness, to steep machined angles up to 85 degrees. It does all this in 3D, without contact, and provides the best qualities of other profiling technologies (stylus, confocal, focus scanning) without their shortcomings.
Analysis & Control Software
The Nexview NX2 profiler uses ZYGO's Mx™ software that powers complete system control & data analysis, including rich interactive 3D maps, quantitative topography information, intuitive measurement navigation, and built in SPC with statistics, control charting, and pass/fail limits.
Interactive 3D plots - zoom, pan, rotate, and update results in real time.
Flexible Analyses - a wide array of quantitative results, data views, and filters are included.
Intuitive user interface with a workflow-based design makes it easy to learn and use.
Built in SPC analysis tools track results, monitor pass-fail criteria, and track process statistics.
Additional application modules for specific needs, such as measurement in the presence of transparent films, and 2D vision analysis, are available for customers that require these capabilities.
Automated Operation
The Nexview NX2 profiler is a fly-by-wire tool with no manual controls, so it can be fully automated with programmed sequences to measure multiple part segments, recipe-based in-tray part measurements, or wide-area part stitching of larger surfaces into a single measurement.
Clean, Streamlined, Design
The Nexview NX2 profiler features a large work area with clear lines of sight to help make measurement setups and changeovers simple and quick.
Its automated 200 mm integrated measurement stage is the epitome of clean and efficient industrial design. It features an embedded ±4 degree high load tilt stage with parcentric correction - which makes aligning the measurement surface simple, even for featureless samples.