Corner Cube Retroreflectors
Featured Product from Zygo Corporation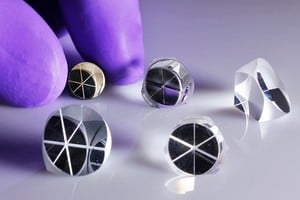 A corner cube retroreflector, also known as a CCR or trihedral prism, is an optical structure that consists of three adjacent, mutually-orthogonal plane-reflecting surfaces which form the corner of a cube. The corner cube reflects an incident ray at a specific angle, independent of the prism and beam orientations.
Typical corner cube designs reflect the incident light at 180 degrees. Some applications require the reflected ray to return at a different angle. This type of design, known as a "spoiled" retroreflector, incorporates a precisely calculated offset of the dihedral surface angles.
A number of coating options are available for corner cube retroreflectors. The front face may have an antireflective (AR) coating applied, and the three reflecting faces may have a metallic or dielectric coating, or may remain uncoated.
Applications
Corner cubes are used in a wide variety of applications such as spectroscopy, battlefield technology and satellites. Corner cubes enable range finding for weapons systems and aid in performing other precise displacement and distance measurements. For example, a satellite in orbit around the earth requires monitoring of its position while it measures plate tectonics and ocean surface topography.
ZYGO Advanced Capabilities
When off-the-shelf catalog retroreflectors do not meet the needs of your application, contact us with your requirements. At ZYGO, we leverage more than 40 years of experience in fabricating, coating, and measuring the highest quality optics. Our skilled engineers, opticians and technicians specialize in fabricating the most challenging designs. All fabrication, coating, and testing is done in-house by ZYGO.
ZYGO master opticians and coating technicians routinely fabricate designs for the defense, aerospace, semiconductor, medical and other highly demanding industries. We frequently receive requests to test coatings on witness samples to meet military specifications for adhesion, salt fog, humidity, temperature and more. Our testing and inspection teams ensure each corner cube's performance meets or exceeds our customers' expectations.
Key Features:
Dihedral angles: 90° ± 0.20 arc sec, or "spoiled" (angles offset)
Beam deviations to ≤ 1 arc sec
Sizes: 10 mm to 100 mm (or larger)
Quantities from single piece to high-volume OEM orders