High Precision Prisms
Featured Product from Zygo Corporation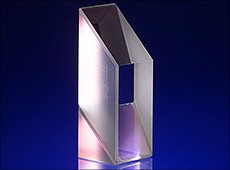 ZYGO's Optics business segment manufactures prisms when the most demanding angles and flatness tolerances are required. Our metrology and polishing capabilities allow us to supply prisms with sub arc-second angle tolerances, very flat surfaces and excellent transmitted wavefront characteristics. In addition, ZYGO offers a broad range of coating options, including polarizing films, antireflective coatings, and coatings to improve reflectance for prisms.
Key Features
• Extremely tight angle tolerances, < 1 arc second.
• Flatness better than λ/40.
• Transmitted wavefront errors better than λ/10.
• Surface Roughness < 1 nm.