Mx™ Software
Featured Product from Zygo Corporation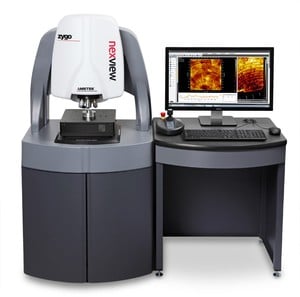 Instrument Control & Data Analysis Software for ZYGO 3D Optical Surface Profilers
ZYGO's Mx™ software powers complete system control & data analysis, including interactive 3D maps, quantitative topography data, intuitive navigation, & built-in SPC with statistics, control charting, and pass/fail limits.
All New Analysis & Control Software
Mx is ZYGO's software platform for instrument control and data analysis. Running on a latest generation CPU, and using a simple workflow based concept, users easily navigate the metrology experience from setup through analysis and reporting.
Interactive and detailed data plots show full area data in 2D or 3D; profile slices, material ratio, slope analysis, and PSD views are also standard capability. With built-in SPC, pass/fail indication, data reporting and run charts, production quality analysis is simple.
Mx Highlights:
Robust measurements - New technology reveals topography data nearly everywhere there is a part, even on rough and angled surfaces.
Interactive 3D plots - zoom, pan, rotate, and update measurement results in real time.
Flexible analyses - a wide array of quantitative results, data views, and filters are included.
In-depth analysis - highly interactive and visual analysis tools provide provides a method for local data inspection and measurement comparisons.
Intuitive user interface with customizable floating tool strips and a workflow-based design is easy to learn and use.
Automated Operation
The Nexview profiler is a fly-by-wire tool with no manual controls, so it can be fully automated with programmed sequences to measure multiple part segments, recipe based in-tray part measurements, or wide-area part stitching of larger surfaces into a single measurement. User-level logins and recipe configurations provide confidence that an established metrology routine cannot be inadvertently altered.
Other Applications
To accomodate specialized measurement applications, you may obtain optional software licenses for applications such as vision analysis and transparent films analysis. Mx software modules allow ZYGO surface profilers to be used for a wider variety of measurement applications such as materials characterization, precision machining, prosthetics, MEMS, semiconductor, consumer electro-optics, and optical surface manufacturing.