Optical Mirrors
Featured Product from Zygo Corporation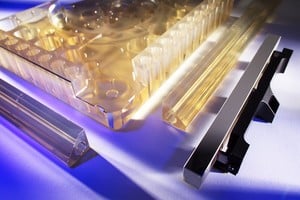 ZYGO's Optics business segment manufactures precision optical mirrors to exacting standards.
Applications
ZYGO has a long tradition of manufacturing custom-made optical mirrors for a wide variety of applications, including, but not limited to:
EUV mirrors
Lightweighted mirrors
Space mirrors
Stage components for lithographic steppers
X-ray mirrors
Defense/Aerospace
Medical/Life sciences
Industrial OEM
Intelligence, surveillance & reconnaissance (ISR)
Key Features
Geometry (flats, spheres, aspheres) to better than λ/50 PV.
Full aperture interferometry up to 32" for flats, and up to 12" for spheres/aspheres (larger with stitching).
Surface Roughness < 1 nm rms.
Materials
ZYGO has the capability to process a wide range of materials for optical mirrors. Our product capabilities include:
CLEARCERAM® mirrors
Cordierite mirrors
Silicon Carbide mirrors
Silicon mirrors
ULE® mirrors
Zerodur® mirrors
Types
ZYGO produces a variety of types high quality custom optical mirrors, including:
Aspheric mirrors
EUV Mirrors
Flat mirrors
Light-Weighted Mirrors
Monolithic Mirrors
Off-axis mirrors
Parabolic mirrors
Spherical mirrors