Semiconductor Stage Components
Featured Product from Zygo Corporation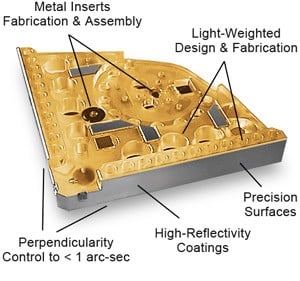 Wafer production technology requires extreme precision components, whether for reticle stages, wafer stages or imaging technologies. ZYGO is a leading supplier of stage positioning components, serving the semiconductor industry and emerging EUV technologies through multiple custom orders. Our customers have turned to ZYGO for such things as burled or pin chucks, reticle chucks, and stage positioning systems.
ZYGO custom manufactures high precision optical components for 300 mm and 450 mm wafer handling - and even meter-class semiconductor photolithography stages. These stage components can be made in a variety of custom shapes and sizes, employing precision manufacturing capabilities for monolithic, bar, and light-weighted machined optical structures. Beyond fabrication and polishing, ZYGO offers precision anti-reflective, highly reflective, or custom specialty coatings to optical surfaces.
Precision Machining, Features, Holes, Inserts
Stage components may need machined datum features or precision holes and/or inserts, all well-understood processes for ZYGO. With our large selection of manufacturing capabilities, custom machined optical structures up to meter-class size, including aspect ratios of 300:1 or more. Intricate features, channels, and high aspect ratio holes are a specialty, and can be machined into the structures.
Nanometer-Level Flatness/Thickness Control, and Sub-Arcsec Geometry Tolerances
Our production experts can control global flatness, local (die-level) flatness, and total thickness variation (TTV) down to nanometer level. Perpendicularity and parallelism can be controlled to sub-arcsec tolerances.
The surface flatness and roughness of the stage components we manufacture are meticulously verified during and after fabrication using ZYGO's own industry-standard interferometer and 3D optical profiler and custom metrology products.
Design from Concept, or Build-to-Print
Whether you have just a concept, or a design ready to be manufactured, ZYGO can enter into your product development cycle at any stage, and assist you in the following areas:
• Developing a Statement of Work (SOW)
• Mechanical/Electrical/Thermal/Systems design, modeling, and analysis
• Prototyping
• Coating design
• Redesign for improved performance, quality, and cost
• Conduct a Design for Manufacture and Assembly phase prior to production
ZYGO has the optical, mechanical, electrical, manufacturing, systems engineering, and program management capabilities, coupled with Tier 1 volume optical assembly capabilities, to see your product through to production. Our optical assembly facility has ISO 9001 and ISO 13485 registrations, and our advanced class 100,000 to class 10 clean room assembly areas have all the necessary climate controls in place including particle, temperature, humidity, and ionization.
Stage Component Fabrication Capabilities
• Monolithic structures
• Light-weighted structures
• Bar Mirrors
• Up to meter-class sizes, with full-aperture metrology
• Ultra High Vacuum (UHV) compliant
(cleaning, materials, outgassing tests)
• Bonding, including optical contacting
• "Super" polishing, down to <0.1 nm RMS roughness
Stage Component Materials
• Glasses (Fused Silica, etc.)
• Variety of Ceramics, Silicon Carbide (SiC), etc.
• Low thermal expansion materials
(Zerodur®, ULE®, CLEARCERAM® etc.)
• New, high-performance materials
• Wear resistant
• Anti Reflective
• Highly Reflective (metal and dielectric)