Spherical Optics
Featured Product from Zygo Corporation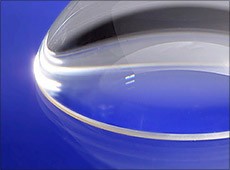 ZYGO's Optics business segment manufactures precision spheres and lenses ranging in diameter from 50 mm to 200 mm with radii from 12.7 mm to 8 meters.
Our standard product line of transmission spheres is available in 4" and 6" clear apertures ranging in f-numbers from f/.65 to f/11 with wavefront errors of λ/10 or λ/20. Our new line of Ultrasphere™ transmission spheres is available at λ/40. Various convergers and divergers are also part of our standard product line. We are a qualified vendor for high laser fluence lenses.
Key Features
• Specializing in lenses up to 8" diameter.
• Surfaces verified and radii measured using ZYGO interferometry.
• Surface figure better than λ/20 available.