Verifire™ Asphere+
Featured Product from Zygo Corporation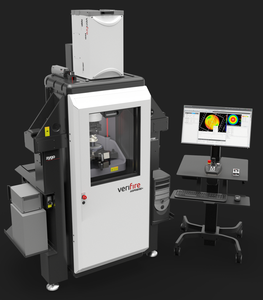 High-performing, flexible, and precise aspheric metrology
Aspheric optics enable significant benefits in the design and implementation of imaging, sensing and laser systems used in industries from defense & aerospace, semiconductor exposure and inspection systems and medical imaging systems.
Production of aspheres that support these applications is dependent on precision metrology. After all, when it comes to aspheric optics, you can't make what you can't measure.
The Verifire Asphere+ (VFA+) leverages the benefits of Fizeau interferometry to provide a unique combination of precise, high resolution, fast, and full aperture metrology for axisymmetric aspheres.
The VFA+ provides a flexible metrology platform to measure a range of axisymmetric aspheres with only a change of the transmission sphere. The VFA+ is equipped with an optional secondary stage which supports a computer generated hologram (CGH) extending the asphere shape capability to nonsymmetric freeforms and off-axis aspheric optics.
NEW! With a focus on enhancing the user experience, you can easily set up new measurements, navigate measurement data & results, and diagnose production issues. Mx™ Software enables efficient R&D and prototyping phases and improves production applications with simple one-click setup, alignment and measurement capabilities.