Verifire™ HD
Featured Product from Zygo Corporation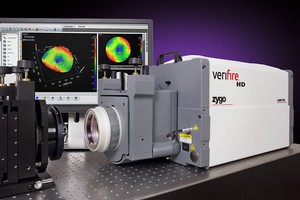 High Definition Interferometer System with QPSI™ Vibration Tolerant Technology
ZYGO's Verifire™ HD interferometer system provides fast high-resolution measurements of flat or spherical surfaces, and transmitted wavefront measurement of optical components and assemblies. The interferometric cavity length is precisely modulated while a high-speed camera captures several fringe images, which are analyzed by the software to create a highly detailed measurement of the part being tested.
Exposes Mid-Spatial Frequency Surface Features
Mid-spatial frequency features can't hide any longer. The Verifire HD system boasts a hi-res camera and optimized optical design to reliably measure surface features that have been difficult to discern in the past. Plus, the Mx™ software package provides the facility to quantify mid-spatial frequency content with powerful Power Spectral Density (PSD) and diffraction simulation tool.
QPSI™ Vibration Tolerant Interferometry
QPSI technology eliminates ripple and phase noise caused by common sources of vibration such as grinding and polishing equipment, motors, pumps, blowers, and personnel, which means you can use the Verifire HD system right on the production floor, without the hassle and expense of vibration isolation tables.
QPSI is enabled by a powerful new proprietary laser and a high frame rate camera. No calibration or special setup is required. A simple change of a menu option enables/disables QPSI technology.
Powerful Long-Life Laser
The unique performance capabilities of the Verifire HD system require an equally unique laser. It had to be more powerful than lasers typically found in interferometers, and we wanted it to have a much longer life span so as to minimize the inconvenience of downtime.
To ensure the laser met our stringent requirements and exacting standards, we decided to design and build it in-house. Our proprietary field-proven design provides unmatched reliability and a longer service life. This high-performance laser available exclusively from ZYGO.
Modular Options, for Maximum Flexibility
The Verifire HD is designed with modular options so you can configure your system with the exact mix of options you need. Some available configuration options are:
Point source or coherent noise reduction (artifact suppression)
5.3 or 1.4 megapixel camera
Fixed zoom, or discrete motorized turret zoom (1x, 1.7x, 3x)
Key Features:
Ultra-precise phase measuring interferometry
Resolves mid-spatial frequency surface features
QPSI™ technology provides reliable measurements in production environments
Proprietary long-life powerful laser