Verifire XL - Large-Aperture Interferometer
Featured Product from Zygo Corporation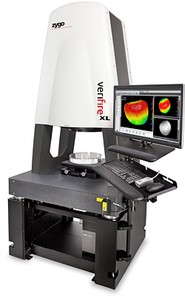 This fully integrated system is easy to use, with a heavy duty tip/tilt stage that provides repeatable part placement without the need for custom fixturing. The compact footprint, with built-in vibration isolation, requires minimal production floor space.
Vibration Robust
The Verifire XL system includes ZYGO's patented QPSI™ acquisition technology which enables reliable high-precision measurements in the presence of vibration. QPSI enables true on-axis surface form metrology, without degradation from typical production vibrations.
Accurate Metrology
The high-performance transmission flat in the Verifire XL system is designed for minimal sensitivity to gravitational sag, and includes a full-area calibration file to enable optimum system accuracy.
Mx™ Software
ZYGO's proprietary Mx™ measurement and analysis software offers a wide range of operational features and data visualization tools for unmatched measurement capability in an easy-to-use interface. Mx software now includes SmartAveraging® technology that helps to obtain the best possible measurement in the shortest amount of time, and the built-in SPC provides powerful capability for production situations.
Key Features:
• 12" (300 mm) aperture
• Compact footprint, self-contained system
• Easy part loading and alignment
• Simple setup and streamlined operation
• Built-in pre-aligned transmission flat
• Integrated vibration isolation and QPSI™ technology for reliable measurements in production environments