WEBINAR: Precise Measurement of Polished Surfaces
Featured Product from Zygo Corporation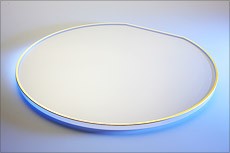 WEBINAR: Precise Measurement of Polished Surfaces
Precision manufacturing has come a long way in the past several years, with ultra-machining and super-polishing processes routinely creating surfaces with sub-angstrom roughness and topography.
In this webinar, ZYGO Applications Engineer Mackenzie Massey highlights a case study that focuses on how measurement data can be used to drive process optimization of laser-grade optical surfaces, using advanced non-contact areal metrology tools.
How ZYGO optical profilers are routinely used to measure super-smooth sub-Angstrom roughness surfaces, for production control.
How to optimize measurement data through adjustment of control parameters, measurement techniques and averaging, and assess the system noise floor.
How a Tier-1 laser manufacturer employed precision metrology to control their process and surface quality.
Watch the webinar to discover how 3D optical profiler technology can be effectively deployed to measure and control the manufacture of today's super-smooth surfaces.